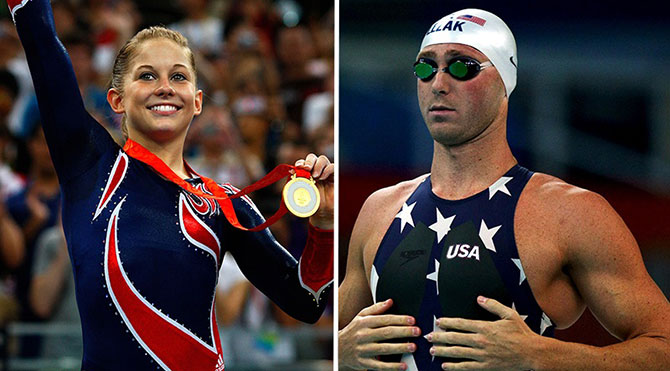 Beijing 2008 Legends Shawn Johnson, Jason Lezak Inducted Into Their Sports' Halls Of Fame
Shawn Johnson and Jason Lezak were protagonists in two of the most memorable competitions at the Olympic Games Beijing 2008, and both came home with a handful of medals.
Now both are members of their respective sports' international halls of fame.
Lezak joined the International Swimming Hall of Fame while Johnson was inducted into the International Gymnastics Hall of Fame, both on Saturday.
Johnson, the 2007 world all-around gymnastics champion, co-headlined the U.S. women's team in Beijing, alongside Nastia Liukin. They led the Americans to a silver medal in the team competition, falling just short of the host country, before going head-to-head in a memorable all-around final.
This time Liukin edged Johnson, though the Iowa native went on to win a silver medal on floor exercise before ending the Games with a gold medal on the balance beam.
Download the Team USA app today to keep up with swimming, gymnastics and all your favorite sports, plus access to videos, Olympic and Paralympic team bios, and more.
Though an attempted comeback for the 2012 Games ended just before that year's Olympic trials, Johnson has remained in the spotlight spotlight through TV appearances and a large social media presence. Now 27 and married to Washington Redskins long snapper Andrew East, the former gymnast — who now goes by Shawn Johnson East — announced in April that she is expecting their first child.
The couple attended an induction ceremony in Oklahoma City, Oklahoma.
Lezak, now 43, was one of Team USA's most dominant relay swimmers for a generation, with his ability encapsulated in one iconic race in Beijing.
On Day 3 of the Games, Michael Phelps' quest for a record eight gold medals appeared in jeopardy as Lezak dove in for the anchor leg of the 4×100 freestyle. Trailing by a half second, Lezak chased down France's anchor Alain Bernard — the world record holder — in an epic comeback, completing the fastest 4×100 relay split ever, shattering the world record and keeping Phelps' quest alive.
"Whenever I watch it, I still get pumped up," Lezak told TeamUSA.org last year. "It's pretty amazing to see. I look at it as a spectator vs. myself and it's awesome."
Though best remembered for that race, Lezak had a long and distinguished career in elite swimming, competing in four Olympic Games and winning eight medals (four of them gold) from 2000 to 2012. Seven of those medals were in relays, with the lone individual medal being a bronze in the 100 free in Beijing.
Lezak and his wife Danielle DeAlva, who swam for Mexico in the Olympics, have three children. He was inducted during a ceremony in Fort Lauderdale, Florida.
Chrös McDougall has covered the Olympic movement for TeamUSA.org since 2009 on behalf of Red Line Editorial, Inc. He is based in Minneapolis-St. Paul.
Article Credit: Team USA