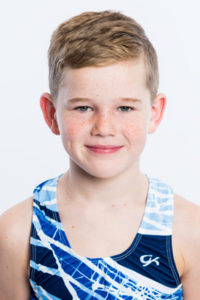 Name

Tate Boyd

Level

Boys Level 6
WHAT GOT YOU INTERESTED IN GYMNASTICS?
I like to climb and jump.
WHO'S BEEN YOUR INSPIRATION?
All of the coaches at Chow's, but specifically Coach Nong and Coach Mike.
FAVORITE EVENT AND WHY?
Parallel bars – I like doing handstands and swings.
FAVORITE FOOD:
Sushi.
HOBBIES:
Jump on trampoline, ride bike, Legos, and play with friends.
MOST MEMORABLE MEET EXPERIENCE:
I look forward to competing my first year and trying to win as many events and meets as I can.
PERSONAL GOAL(S):
I want to compete in college gymnastics. After that, I want to someday compete in the Olympics and then someday be a gymnastics coach.
ACHIEVEMENTS:
This is my first year, and I haven't competed yet. I'm really looking forward to the first meet.