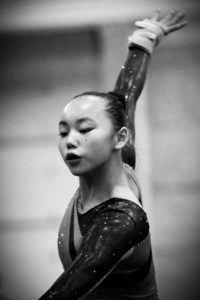 Name

Sinclair Bagwell

Level

Level 9
What got you interested in Gymnastics?
Mommy and Me classes and having my 2nd Birthday party at a gym.
Who's been your inspiration?
My coaches and my teammates all inspire me.
Favorite event/why?
Floor is my favorite because I like to tumble and dance.
Favorite Food: Chicken & Steak
Hobbies:
I like listening to music, playing outside, and going to the pool.
Most memorable meet experience:
Winning 1st place at my first gymnastics meet and getting a 9.8 on bars at level 4.
Personal goal(s):
To compete in college gymnastics
Achievements:
2015 Level 8 Iowa State Championships – 2nd Place Vault, Floor, 3rd Place Bars
2015 Level 8 Northern Lights – 1st Place AA, Bars, Beam, 2nd Place Vault, Floor
2015 Level 8 IGI Chicago Style – 1st Place Floor, 2nd Place AA, Bars, Beam
2015 Level 8 Chow's Challenge – 1st Place Floor
2015 Level 8 Chow's Winter Classic – 1st Place AA, Vault, Bars, and Floor, 3rd Beam
2014 Level 8 Region 4 Regionals – 3rd Place Vault
2014 Level 8 Glider's Invitational – 3rd Place Vault and Bars
2014 Level 8 Chow's Winter Classic – 1st Place AA, Vault, and Floor
2013 Level 7 Iowa State Meet – 2nd Place Vault
2013 Level 7 Chow's Winter Classic – 1st Place Vault, 2nd Place Beam
2013 Level 7 Kansas City Classic – 2nd Place Beam
2013 Level 7 Presidential Classic – 3rd Place Floor
2011 Level 6 Iowa State Meet – 2nd Place Vault, 2nd Place Bars
2011 Level 6 Iowa State Meet – 1st Place Team