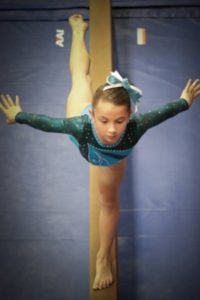 Name

Sasha Gisi

Level

Level 8
What got you interested in gymnastics? My mom put me in Mommy and Me classes when I was 18 months old and I have loved it ever since!
Who's been your inspiration? My teammates who all work really hard in the gym.
Favorite event/why: Bars because it's the most fun for me.
Favorite food: Mac n' cheese
Hobbies: Reading and baking
Most memorable meet experience: Scoring a 9.8 on beam at Level 7 State.
Personal goal(s):  To get a 38 in Level 8 and do college gymnastics.
Achievements: Level 4 State All-Around Champion, Level 5 State Bars Champion, Level 7 State and Regional All-Around Champion.