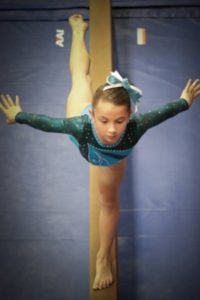 Name

Sasha Gisi

Level

Level 7
What got you interested in gymnastics?
My mom took me to a Mommy and Me class at Chow's and I've loved gymnastics ever since!
Who's been your inspiration?
The upper-level gymnasts at Chow's, my coaches, and my teammates
Favorite event/why:
Bars because I love to swing high!
Favorite food:
Grilled cheese sandwiches
Hobbies:
Art, reading, and playing with my dog
Most memorable meet experience:
At the 2015 Ruby Spooktacular, I scored a 9.8 on bars!
Personal goal(s):
To get my free hip to handstand on bars
Achievements:
2014 Level 4 State Bar Champion
2015 Level 4 State All-Around Champion
2015 Level 4 State Bar Champion
2015 Level 4 State Beam Champion
2015 Level 4 State Floor Champion