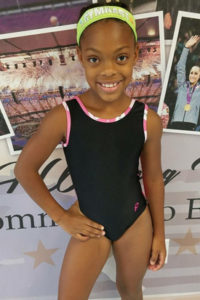 Name

Madilyn Curtis

Level

Level 5
What got you interested in gymnastics?
When I watched Gabby Douglas compete in the 2012 Olympics it made me want to try gymnastics instead of being a cheerleader and I loved it the first day I walked in the gym at 5.
Who's been your inspiration?
Gabby Douglas and Simone Biles inspire me because they are both strong and had to work really hard to achieve their goals. They never gave up when things got complicated. They have inspired me to keep going after my dream and to never quit even when things get tough!
Favorite event/why:
Bars because I like learning new skills and working hard. Sometimes I feel like I'm flying when I swing.
Favorite food:
Strawberries and apples
Hobbies:
My hobbies are gymnastics, reading books, writing stories, dancing and singing!
Most memorable meet experience:
When I was 5 and won state champion my first year doing gymnastics in Alabama.
Personal goal(s):
To be an elite gymmast
Going to the Olympics
Achievements:
Making Chows competitive team!