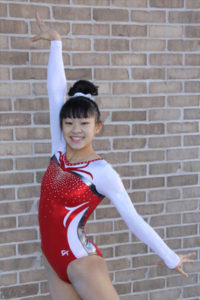 Name

Lindsay Newman

Level

Level 9
What got you interested in gymnastics?
I would always swing on doors and climb on things in my house, so my mom enrolled me in a gymnastics class.
Who's been your inspiration?
My family, coaches, teammates, Shawn Johnson, Laurie Hernandez, Simone Biles and Nastia Liukin.
Favorite event/why:
I love all of them, but bars is my favorite because it's fun and it makes me feel like I'm flying.
Favorite food:
Macaroni and cheese
Hobbies:
I love to spend time with my family and friends. I also love to draw and play outside.
Most memorable meet experience:
Placing first All-Around on Beam at Regionals.
Personal goal(s):
To always do my best and to challenge myself.
Achievements:
2017 Level 7 State Bars, Vault and All-Around Champion.
2017 Level 7 Regional Vault, Beam and All-Around Champion.