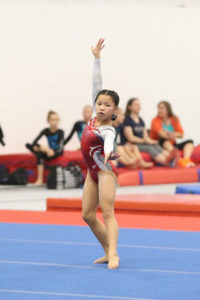 Name

Lily Romanin

Level

Level 6
What got you interested in gymnastics?
My mom put me in a gymnastics class when I was little because I was what she called a "daredevil" on couch cushions.
Who's been your inspiration?
My coaches and my teammates
Favorite event/why:
Floor, because I have my own dance routine.
Favorite food:
Nutella, it's the breakfast of champions.
Hobbies:
Crafts, reading, show choir and piano.
Most memorable meet experience:
When I got my 38 for level 4 and level 5.
Personal goal(s):
Getting a 9.8 on beam
Have more emotion on floor
Not piking on vault
Achievements:
State champion level 4 and level 5