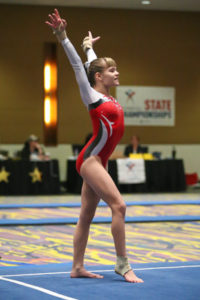 Name

Hannah Paustian

Level

Level 8
What got you interested in gymnastics?
I did a Tots/Mommy & Me class when I was 1 and have loved it ever since!
Who's been your inspiration?
Shawn Johnson, Laurie Hernandez and Simone Biles.
Favorite event/why:
I love Vault because I love learning new vaults and flying through the air!
Favorite food:   Pancakes
Hobbies:
Jumping on the trampoline, swimming, and hanging out with friends.
Most memorable meet experience:
My team mates (some who weren't even competing that day) doing my floor routine with me on the sideline at Chow's Winter Classic!
Personal goal(s):
Short term: Get my skills perfected for level 8, and be braver on my skills on bars.
Long Term: Become a collegiate gymnast.
Achievements:

Level 4 State Floor Champion.
Level 5 State Beam Champion.
Level 7 State Vault, Bars, and AA Champion.
Level 7 Regional Vault, Bars, Beam, Floor, and AA Champion.