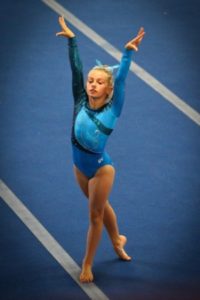 Name

Haley Lamberson

Level

Level 9
What got you interested in gymnastics?  My mom put me in it when I was little and I've loved it ever since.
Who's been your inspiration?  Shawn Johnson, Gabby Douglas and I love Simone Biles.
Favorite event/why:  Bars
Favorite food:   Steak and noodles & butter
Hobbies:  Crafting, hanging with my friends, reading and writing.
Most memorable meet experience:  When I got my first 38.00
Personal goal(s):  To make it to Elite and to go to Iowa State
Achievements:
1st Level 4-5 State
Highest All Around:  38.45