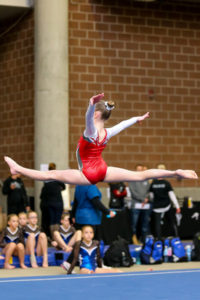 Name

Hailey Gear

Level

Level 9
What got you interested in gymnastics?
I had a ton of energy when I was little. Always jumping around the furniture, cartwheels down the sidewalk, so my mom put me in a preschool class to burn some energy. I've loved gymnastics since that very first class!
Who's been your inspiration?
My inspiration is Shawn Johnson because she was still training at Chows when I started and it was fun to see her at practices.
Favorite event/why:
Bars or Beam because they are some of the most challenging events, but I've really improved on beam and that makes it so much fun when you finally overcome some of your challenges.
Favorite food:
My favorite food is a grilled ham and cheese.
Hobbies:
Gymnastics ( pretty much takes up all of my time), shopping, watch netflix, and hanging out with family and friends.
Most memorable meet experience:
Scoring a 9.9 on bars in Dallas.
Personal goal(s):
To have a successful level 7 season and be a college gymnast.
Achievements:
Scoring a 38.00 for the first time as a gymnast
2017 Level 6 State Bars and Floor Champion
2017 Level 6 Beam and All Around Champion