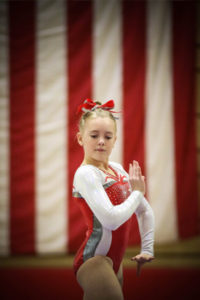 Name

Grace Bailey

Level

Level 6
What got you interested in gymnastics?
My mom put me in a class at Chow's when I was 2 1/2 years old and I loved it right away.
Who's been your inspiration?
Mary Lou Retton. She was an amazing gymnast and I shared her story in a wax museum at my school.
Favorite event/why:
Beam because it is my best and I think it looks pretty when it is done right.
Favorite food:   Chicken
Hobbies:
Playing with friends, hanging outside, arts and crafts, and reading
Most memorable meet experience:
When I won AA, UB, and VT at my 2015 state meet
Personal goal(s):
Have all 4 of my scores counted for the team score
Achievements:
2015 Level 4 All-Around, Uneven Bars and Vault State Champion
Won my first All-Around title at Games in Ames in 2015