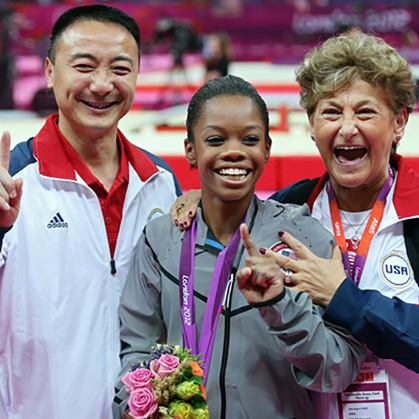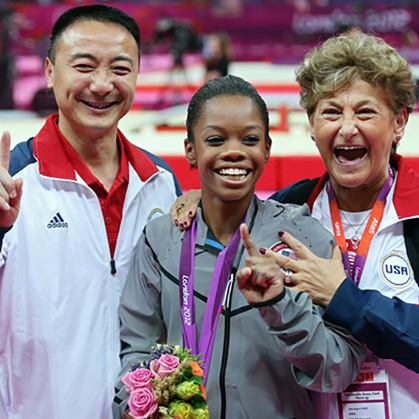 Gymnastic Career
When Douglas turned 14, she left her hometown and family, and moved to West Des Moines, Iowa, to train with renowned coach Liang Chow, known for molding American gymnast Shawn Johnson into a world champion and Olympic gold medalist. Travis and Missy Parton volunteered to be Douglas' host family in West Des Moines. According to Douglas' official website, she became like a big sister to the Parton's four daughters, one of whom was also a student of Chow's.
At the 2010 Nastia Liukin SuperGirl Cup — a televised meet held in Massachusetts — Douglas made her debut on the national scene, placing fourth all-around. She also placed third on the balance beam, sixth on vault and ninth all-around in the junior division of her first elite meet, the 2010 CoverGirl classic in Chicago, Illinois.
Douglas went on to win the silver medal on balance beam and fourth all-around at the 2010 U.S. Junior National Championships, and then took the uneven bars title at the 2010 Pan American Championships. Her performance at that event also placed Douglas at fifth all-around and her performance helped the U.S. team win the gold medal.
Douglas was a member of the U.S. team that won the gold medal in the team finals at the 2011 World Artistic Gymnastics Championships in Tokyo, Japan. She also won the 2012 Olympic Trials, which took place in San Jose, California, and was selected as a member of the national team that represented the United States at the 2012 Summer Olympics in London.
"Her unique blend of power, flexibility, body alignment and form has led her to be compared with three-time Olympian Dominique Dawes," according to an article on American-Gymnast.com. Douglas is the first African American to make the U.S. Olympic women's gymnastics team since Dawes in 2000.
Douglas' high-flying skills and high difficulty score on bars not only likened her to Dawes, but caught the attention of U.S. women's national team coordinator Martha Karoyli, who nicknamed her "Flying Squirrel."
2012 Summer Olympics
At the 2012 Summer Olympic Games, Douglas and other members of the U.S. Olympic women's gymnastics team — Kyla Ross, McKayla Maroney, Aly Raisman and Jordyn Wieber — took home a team gold medal. Fans worldwide watched as judges announced the team's medal win — the first gold medal for the American women's gymnastics team since 1996.
Douglas went on to compete in the individual all-around, and became the first African American to win gold in the prestigious event. Following her two golds, she competed in the individual uneven bars and individual beam events, but failed to medal in either, placing eighth and seventh, respectively.
By 2012, 16-year-old Douglas had proven herself a champion, going from underdog to Olympian in a short time. She was featured on the cover of Sports Illustrated in early July of 2012, along with the rest of the U.S. Olympic women's gymnastics team, and on one of five covers released by TIME Magazine that same month. She was also a featured Olympian on Kellogg's special edition box of Wheaties corn flakes.
Road to Rio Games
After her historic Olympic win, Douglas moved to Los Angeles in 2013. In 2014, she returned to training with Chow and later that year began training under coach Kittia Carpenter.
Douglas did not compete in 2014, but returned to international competition in 2015. She placed 4th all-around at the 2015 City of Jesolo Trophy, second in the all-around at the U.S. Classic and 5th overall in the P&G Championships. She was named to the Senior National Team and was selected for the 2015 U.S. Women's World Championship team. She also won silver in the all-around at the 2015 World Artistic Gymnastics Championships in Glasgow, Scotland.
In 2016, Douglas won the all-around title at the City of Jesolo Trophy and placed fourth all-around at the P&G Championships.
At the Olympic trials in July 2016, Douglas finished seventh, after two falls from the balance beam. Regardless, she earned a spot on the 2016 Olympic team, with fellow gymnasts Simone Biles, Laurie Hernandez, Madison Kocian and Aly Raisman, to become the first reigning all-around Olympic champion to return to compete in a second Olympic Games since Nadia Comaneci in 1980. She and teammate Raisman, also a member of the gold medal-winning team in 2012, were the first American women gymnasts to return to the Olympics since Dominique Dawes and Amy Chow in 2000.
2016 Olympic Games
On August 9, 2016, Douglas helped the U.S. women's gymnastics team grab the gold again with her impressive performance on the uneven bars, for which she scored 15.766.
Douglas shared the team gold with Biles, Raisman, Hernandez and Kocian, a team which called themselves "The Final Five."
Raisman explained the meaning behind the team nickname on the Today Show: "We're the Final Five because this is [coach] Marta [Karolyi's] last Olympics, and without her none of this would have been possible. … We wanted to do it for her just because she's there with us every single day." She added: "This is the last Olympics where there's a five-girl team. The next Olympics is only going to be a four-person team."
The Final Five became the third American women's gymnastic team to win gold, following team victories in 1996 and 2012.
Douglas had the third highest score of 61 participants in the qualifying rounds to compete in the women's individual all-around event. However, a rule which only allows two gymnasts per country to compete prevented Douglas from participating and defending her 2012 title. Teammates Biles and Raisman finished ahead of her in the qualifying round and went on to take the gold and silver, respectively, in the competition.
Douglas did compete in the uneven bars final, but met with more disappointment when she made an error on a handstand, earning a seventh-place finish. Her teammate Madison Kocian took home the silver medal in the event.
Biography Information from: https://www.biography.com/people/gabby-douglas-20900057