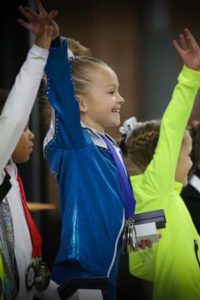 Name

Finley Weldon

Level

Level 10
What got you interested in gymnastics?
When I was really little, my mom would take me to open gym at a gym near our house so that I could burn off energy and would take a nap for her. I was always climbing on everything and couldn't sit still. When I got a little bigger, like 2 or 3, we started going to the gymnastics meets at the University of Utah. I started competitive gymnastics when I was 6.
Who's been your inspiration? 
My mom and my sister. Whenever I have a hard day, they always tell me that tomorrow will be better and not to give up. They believe in me and support me.
Norah Flatley inspires me because she works really hard and is a good sport. I look up to her a lot.
Favorite event/why:
My favorite event is bars. I like bars because I get to swing and I love swinging.
Favorite food:
Chicken. Just regular grilled chicken with fries.
Hobbies:
I love to shop, go to the movies, and spend time with my family. I also really like art and drawing.
Most memorable meet experience:
My most memorable meet was my first Flip for a Cure meet.
Personal goal(s):
My goal is to go Optional, when you can pick your own music. And then be able to test elite. And then go to the Olympics.
Achievements:
TOPS 2014 Diamond Team
1st AA Judges Cup 2015
1st AA Flip for a Cure 2015
1st AA Ruby Spooktakular 2015
1st AA Games in Ames
1st AA Flip for Food
1st AA Winter Classic
Level 4 State Champion
*vault
*bars
*beam
*floor