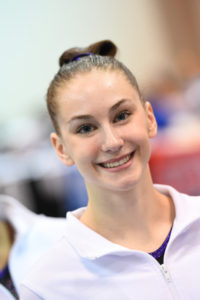 Name

Emma Brown

Level

Level 10
What got you interested in gymnastics?
I went to a summer camp when I was little and it seemed fun.
Who's been your inspiration:
Rachel Gowey, Courtney Loper and my teammates.
Favorite event/why:
Bars because I like the challenges.
strong>Favorite food:
Chili or sushi
Hobbies:
Reading, shopping, running and hanging out with my horses.
Most memorable meet experience:
Nastia Cup
Personal goal(s):
Be the best I can be.
Achievements:
JO Nationals
Nastia Cup
Committing to University of Denver on a full-ride gymnastics scholarship.