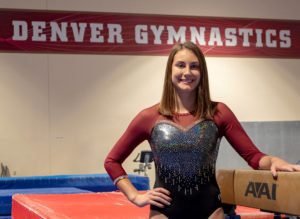 Name

Emma Brown

Level

Level 10

Current Team

University of Denver Gymnastics
What got you interested in gymnastics?  I attended a summer gymnastics camp and it was fun!  
Who's been your inspiration?  My former teammates
Favorite event/why:  Depends on the day and what is going well
Favorite food:   Krispy Kreme Doughnuts, Sushi and Lava Cake
Hobbies:  Reading, hanging out with friends and pets
Most memorable meet experience:  Nastia Liukin Cup and being on Bridget Sloan's team at Texas meet.
Personal goal(s):  To compete for University of Denver and help the team achieve success.
Achievements: State and Region 4 champion on various events and all-around.  Qualifying for the Nastia Liukin Cup, Qualifying for J.O. Nationals or NIT every year I was a Level 10.  Top 10 All-Around at Nationals 2018.  Signing a letter of commitment for a full-ride scholarship in gymnastics to the University of Denver.