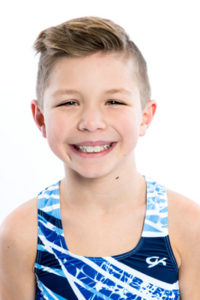 Name

Donato Fontana

Level

Boys Level 6
WHAT GOT YOU INTERESTED IN GYMNASTICS?
I always liked to climb on things when I was very young and I also like to watch American Ninja Warrior. I thought Gymnastics would be fun & cool to do!
WHO'S BEEN YOUR INSPIRATION?
Sam & all the other Olympic men's team.
FAVORITE EVENT AND WHY?
Rings, because you have to be strong & steady
High Bar, because I'm pretty good at it.
FAVORITE FOOD:
Mac n cheese!
HOBBIES:
Art, school, baseball and Golf.
MOST MEMORABLE MEET EXPERIENCE:
When I got first place AA at state when Chows hosted the meet.
PERSONAL GOAL(S):
Long term to be in the Olympics. Short term to get first at state again.
ACHIEVEMENTS:
1st in State AA level 4 2016, 1st in State AA level 5 2017.