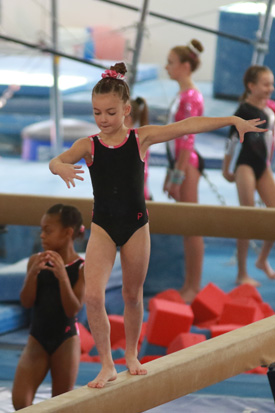 Name

Claire Bailey

Level

Level 4
What got you interested in gymnastics?
My sister did it and watching her I knew I had a passion for it.
Who has been your inspiration?
My sister and my teammates
Favorite event/why?
Beam because I think it takes balance and I like that.
Favorite food:
Pizza and strawberries
Hobbies:
Singing, Art and Gymnastics
Most memorable meet experience:
My first time getting blue ribbons on every event
Personal Goal:
To go to the Olympics
Achievements:
Straight arm kip
Holding my handstand on beam
Getting my back extension roll with straight arms
My front handspring with a high rebound
Not piking when i come onto the vault table
Performing two solos at my second voice recital