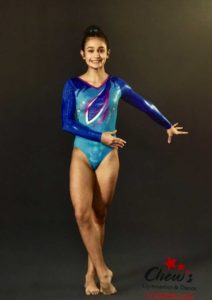 Name

Cici Campero

Level

Level 8
What got you interested in gymnastics? I watched gymnastics when I was a little girl and wanted to do it.
Who's been your inspiration? All the girls on my team.
Favorite event/why: I like the beam the most because it has very pretty elements and is very graceful.
Favorite food: Pasta
Hobbies: I like to have fun with my friends and family.
Most memorable meet experience: Going to Colorado because I competed very well along with my friends. I saw and did some very cool things.
Personal goal(s): To accomplish a 38.5 all-around score in my up-coming season.
Achievements:
Level 5 State Champion Vault, Beam, Floor, Bars, and All Around
Level 7 State Champion Vault, Beam, Floor, and All Aound