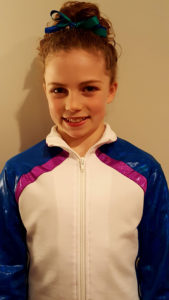 Name

Christiane Popovich

Level

Level 9
What got you interested in gymnastics?  I always loved going…I don't remember a time where I didn't love being around the gym itself.
What gymnasts do you enjoy watching? There are lots of gymnasts I enjoy for different reasons.  Shawn Johnson, Simone Biles, Aliya Mustafina, Victoria Komova, Ivana Hong, all of the Chinese gymnasts. Too many to list.
Favorite event/why:  I actually enjoy them all but if I had to choose, I would have to say bars.
Favorite food:   Fresh pineapple, green and orange peppers, and BLT wraps
Hobbies:  Training my dog to do new tricks, fishing and writing.
Most memorable meet experience:  Level 7 State.
Personal goal(s):  Be purposeful and grow every practice.
Achievements: I don't know if this counts as achievements, but I am thankful every time I cross a goal out of my book.