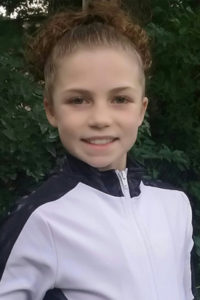 Name

Christiane Popovich

Level

Level 7
What got you interested in gymnastics?
It was always fun going and I loved jumping around.
Who's been your inspiration:
Nadia, Shawn, Nastia, and Aliya Mustafina
Favorite event/why:
Bars is my favorite event because I love to swing so much and you have to hold your form.
Favorite food:
BBBLT (BLT with lots of bacon), pineapple and green peppers
Hobbies:
Coloring, training my dog and playing Sorry and Uno
Most memorable meet experience:
Being really sick and winning vault, beam, bars, floor and the all around at State.
Personal goal(s):
To be thoughtful while I am working, and to stay tight all the time
Achievements:
I am happy when I get to cross goals out of my gym book, like my giants and layouts.