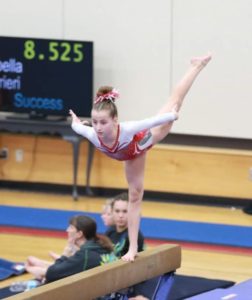 Name

Arianna Hallengren

Level

Level 7
What got you interested in gymnastics? My mom put me in a gymnastics class when I was 4 and I absolutely loved it. My love for gymnastics continues to grow with each new skill that I learn.
Who's been your inspiration? Aly Raismen, Laurie Hernandez, Simone Biles, my coaches, and my teammates
Favorite event/why: Bars. I love to swing high around the bar, fly through the air, do giants, and handstands.
Favorite food: Asian
Hobbies: Gymnastics
Most memorable meet experience: My most memorable meet experience was during my level 5 State Meet. I not only overcame my fear of competing beam, but I earned my highest score on beam to date, a 9.675!
Personal goal(s): I want to attain the highest level that my body and mind are capable of in the sport of gymnastics. My most passionate goal would be to compete elite.
Achievements:
Level 5 – 1st on bars, 2nd on beam, & 2nd AA at the State Meet
Level 4 – 2nd AA, 2nd on bars, 2nd on beam at the State Meet
Level 3 – AA State Champion, Bars State Champion, Floor State Champion, Beam State Champion