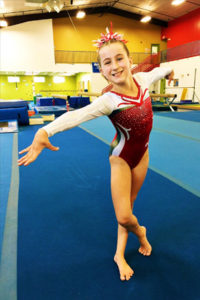 Name

Arianna Hallengren

Level

Level 7
What got you interested in gymnastics?
My mom put me in a rec class and I just loved it. I didn't want to do anything else.
Who's been your inspiration:
The people who inspire me are Simone Biles, Laurie Hernandez, Shawn Johnson, my family, my coach Mallory, Coach Chow, and Li.
Favorite event/why:
My favorite event is bars because I love to fly through the air and swing high
Favorite food:
Chicken and walking tacos.
Hobbies:
Gymnastics
Most memorable meet experience:
During my season last year I was having back pain. The day before one of my meets, my coach told me I would not compete floor and I may not compete at all. I was really disappointed but I went home and prayed. The next day my back felt well enough to compete. I did my best and pushed through some pain. And I placed 2nd AA, 1st on bars!! I was really proud of myself!
Personal goal(s):
I want to earn a perfect 10.0 at a meet, compete as an elite gymnast, and compete in the Olympics.
Achievements:
2015 – 2nd AA, 2nd on Bars, 2nd on Beam at State Meet
2014 – AA State Champion, Bar Champion, & Beam Champion