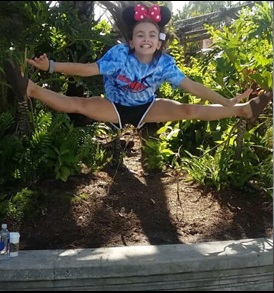 Name

Almedina Sivac

Level

Level 7
What got you interested in gymnastics?
I was at a birthday party at chows and it was so fun to watch over girls doing flips that I wanted to try it out.
Who's been your inspiration?
The Olympic girls and family.
Favorite event/why:
Floor and vault because I feel like I have a lot of power and I feel free.
Favorite food:
Tacos, pizza
Hobbies:
Making slime, gymnastics, swimming
Most memorable meet experience:
When I got 38.9 at State and got first on everything.
Personal goal(s):
To go to Optionals and have 39.0 and State meet.
Achievements:
2016 – Iowa State champion – AA 38.9
2016 – Iowa floor champion with 9.85
2017 – Asked to join level 5