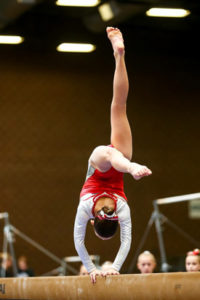 Name

Ady Schroeder

Level

Level 7
What got you interested in gymnastics?  
When I was 3 I was in dance. At a recital rehearsal I saw the older girls tumbling and started doing one-handed cartwheels out of the blue. Everyone kept telling my parents that I needed to be in gymnastics. Plus, my dad thought it would make me a better softball player…little did he know that it would become my passion.
Who's been your inspiration?
My coaches including Coach Chow and Coach Rebecca. Coach Chow inspires me to live up to my potential and be the best gymnast and person I can be. Coach Rebecca inspires me to strive for perfection and continually improve the little things.
Favorite event/why:
Bars because although it has sometimes been a struggle for me I enjoy learning new skills and pushing myself to be better.
Hobbies:
Besides gymnastics, I like to read, write and be awesome.
Most memorable meet experience:
Winning the State Championship in All Around, Vault, and Bars 9 months after breaking my back.  It taught me no matter what obstacles come my way I can persevere.
Personal goal(s):
I am working towards becoming an Elite and it would be an honor to be on our National Team. I also want to compete at a collegiate level.
Achievements:
Level 4 State Floor Champion and All Around Runner Up (2015)
Level 5 State Champion on Vault, Bars, and All Around (2016)
Level 6 State Champion on Vault and All Around (2017)
Level 6 Regional Bars Champion, Regional Runner Up on Vault & Floor (2017)
Level 7 State All Around Champion (2018)
Level 7 Regional Runner Up on Vault, Bars, and All Around (2018)
Personal Best Event Score of 9.900
Personal Best All Around Score of 38.55