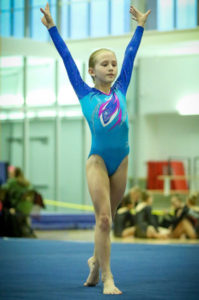 Name

Abigail Reid

Level

Level 5
What got you interested in gymnastics? I attended the parent and me class when I was 3 years old and I've liked it ever since!
Who has been your inspiration? Gymnasts who have completed in the Olympics
Favorite event/why? I like bars because it feels like I am flying and I like floor because I like to dance and tumble.
Favorite food: Pizza, macaroni and cheese, pancakes
Hobbies: Playing outside, gymnastics, playing with my dogs and baking
Most memorable meet experience: Judges Cup because it was my first meet on the J.O. team as a level 4 gymnast.
Personal goal(s): I want to get a 38.0 or higher AA score at a meet. I also want to get my cast handstand on bars.
Achievements: Making the JO team and scoring above a 37.0 at every meet this season