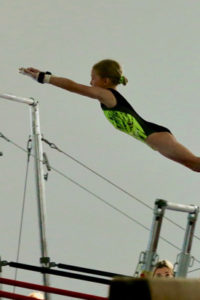 Name

Abigail Reid

Level

Level 4
What got you interested in gymnastics?
I went to the 'Mommy and Me' class when I was three years old. Coach Karin was the coach and I've loved gymnastics ever since.
Who's been your inspiration?
All the gymnasts from team USA that I've watched at the olympics.
Favorite event/why:
I love bars because it feels like I'm flying through the air!
Favorite food:
Pizza, pancakes and macaroni and cheese.
Hobbies:
In my free time I enjoy building with legos, drawing and playing outside.
Most memorable meet experience:
I don't have one yet but I'm excited to compete later this year!
Personal goal(s):
This year I want to make my cast handstand on bars and make my front handspring over the vault table better.
Achievements:
Being invited to join Chow's Competitive Team.