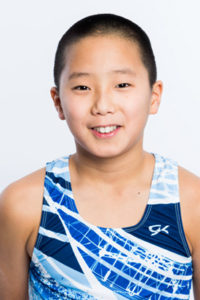 Name

Michael Nguyen

Level

Boys Level 9
WHAT GOT YOU INTERESTED IN GYMNASTICS?
My mom and dad did not want me to get hurt doing handstands on the stairs at home when I was 3 years old.
WHO'S BEEN YOUR INSPIRATION?
My coaches
FAVORITE EVENT AND WHY?
It's really hard to choose…parallel bars
FAVORITE FOOD:
Spaghetti
HOBBIES:
Only gymnastics!
MOST MEMORABLE MEET EXPERIENCE:
Whenever my grandmas come to watch me compete.
PERSONAL GOAL(S):
Do a double twist in my floor routine, double back dismount off the parallel bars, stick my double layout on high bar, and do the giant on rings without touching the cords.
ACHIEVEMENTS:
Doing flares on the floor, my double layout dismount off high bar, and my giant on the parallel bars.