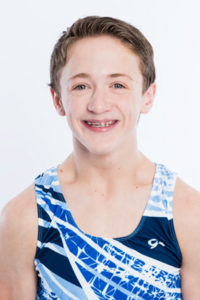 Name

Jackson Mellencamp

Level

Boys Level 10
What got you interested in gymnastics?
While I was younger my aunt taught me a few small tricks and I picked them up pretty quickly. I had also watched gymnastics during the Olympics and I thought it was cool and wanted to try it out. so my parents put me in classes and I have been in gymnastics ever since.
Who's been your inspiration?
Jonathan Horton, Chris Brooks, my teammates, and the guys I compete against because they push and inspire me to get better.
Favorite event (and why):
Pommel Horse
Favorite food:
steak and pasta
Most memorable meet experience:
At my first Nationals in 2016, during the march in the announcer was announcing all of the gyms. When they said Chow's Gymnastics it was just a really good feeling to know that I had achieved one of my biggest goals of competing at nationals. Then, being the first guy up in the first rotation was just a crazy feeling because it showed me that my hard work was paying off and I was getting the chance to compete alongside the best gymnast in the nation, and it's a meet I'll never forget.
Hobbies:
Hanging out with friends and family. Listening to music, and watching Netflix
Personal goal(s):
My short-term goals are to do well at all my competitions this season and to qualify for the J.O. Nationals, and my long term goal is to be apart of a college team and compete in College Gymnastics
Achievements:
4 Time J.O. Nationals Qualifier