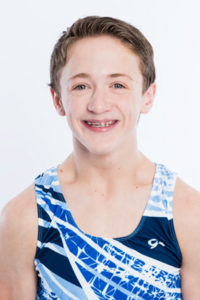 Name

Jackson Mellencamp

Level

Boys Level 10
WHAT GOT YOU INTERESTED IN GYMNASTICS?
When I was younger my aunt taught me how to do a cartwheel and I learned that pretty easily and then I just kept on wanting to learn more and more things. I then taught myself how to do a cartwheel without using my hands. My aunt thought it would be a good idea to put me in a gymnastics class. I was also watching the Olympics and thought it looked so fun and I had to try it, and I have been in gymnastics ever since kindergarten.
WHO'S BEEN YOUR INSPIRATION?
People who have inspired me are a lot of the male elite gymnasts such as Sam Mikulak, Jake Dalton, Jonathan Horton, and Chris Brooks. Other people that have inspired and really helped me in my gymnastics career are two of my old teammates, Ben Eyles and Noah Scigliano.
FAVORITE EVENT AND WHY?
I actually have two events that are my favorite. I really like floor and high bar because I like to tumble and I like doing all of the different skills on high bar.
FAVORITE FOOD:
I really like Fettuccine Alfredo, Fruits and Vegetables, and I love chocolate.
HOBBIES:
I like to hang out with my friends, go on Instagram and Snap Chat, spend time with my family, go to the mall and go shopping or go to the movies. Oh! and I also like to do gymnastics.
MOST MEMORABLE MEET EXPERIENCE:
At Regional's in 2016 when they called my name as one of the gymnast who had qualified for JO Nationals. It was memorable because it had been a goal of mine for quite awhile prior to that meet, and it was just an amazing moment. Another memorable moment was at JO Nationals in 2016 during the march in and when the announcer was announcing all of the gyms. When he called my name it was just a great feeling to know that I had accomplished my goal, and to know my hard work had payed off and that I was getting the chance to compete alongside some of the best gymnasts in the nation.
PERSONAL GOAL(S):
I want to compete in college gymnastics at either the University of Minnesota or the University of Iowa. Then maybe after college become a coach or maybe open my own gym.
ACHIEVEMENTS:
Qualifying to JO Nationals in 2016 (Level 8) and 2017 (Level 9)